We advise, develop and support so that you can rely on an Odoo ERP system that is tailored to your busines processes.
Odoo is a user-friendly, fully integrated ERP system and the only platform you will ever need to run your business.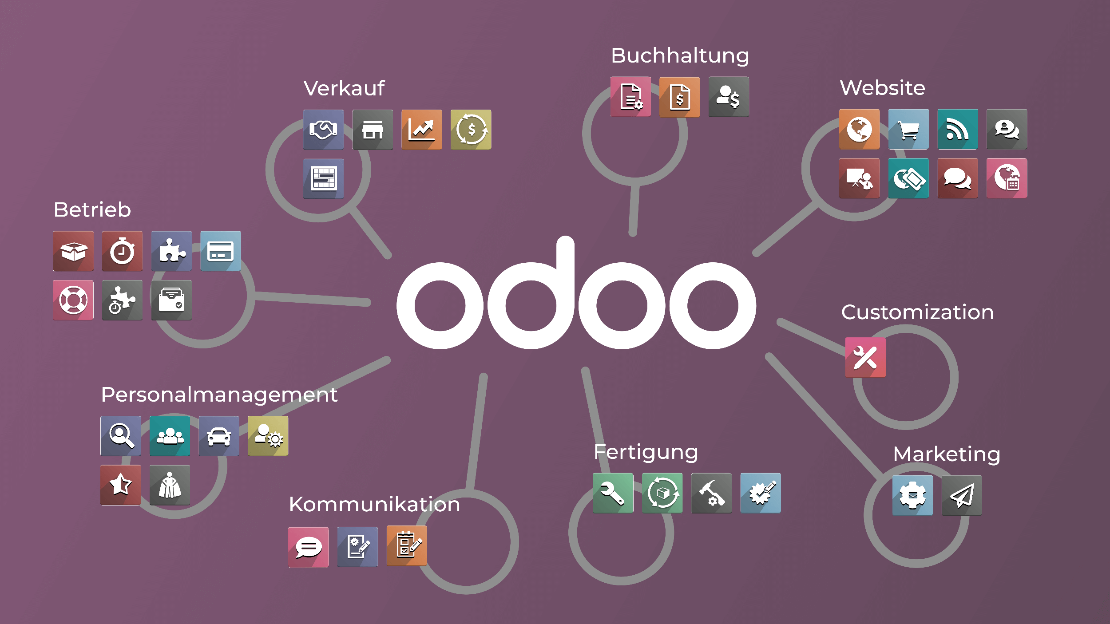 Why Odoo is the world's fastest growing ERP:
1. flexibility

Odoo has the distinct advantage over competitors in that it is flexible through and through: from the modular approach that allows customers to buy only those features that are relevant to their own business processes, to the disclosure of source code so that any developer can build their own modules. Odoo is committed to agility and flexibility, allowing us to build dynamic solutions for your business.
Look around the Odoo App Store Odoo Apps
2. Price

The open-source approach allows Odoo not to have to pay hundreds of developers to further develop the ERP. Odoo is open-source and lets the market determine what is relevant. As a result, developers around the world in all industries all sizes of companies continue to develop Odoo to meet their own requirements. Odoo, the Brussels-based company by the same name, takes only the best features and modules, rigorously tests them, and bundles them into an enterprise package for which it guarantees stability. As a result, Odoo, and ultimately our customer, bears only a fraction of the costs that competitors have to contend with.
More about transparent pricing can be found here Odoo prices
3. Single-Source-of-Truth

Odoo offers fully-integrated modules. In other words, you have all your data in one place and when you install a new Odoo module, you don't have to worry about migrating data or connecting APIs. You simply navigate to the app store, select the appropriate module and install it with one click. Immediately, the functions are available and linked to their master data.

4. user-friendly
Because Odoo has integrated all modules into one environment, you don't have to jump between software solutions and adjust to different functionalities and navigation modes each time. With just a few clicks and following the same pattern, you can filter, group and export the relevant data in each module. Just learn it once and use it everywhere. The best part... Odoo is not going to let you down and offers a comprehensive learning platform for you to explore all the modules for free and understand how they work. .
Go directly to the odoo learning platform by clicking this link learning platform

Open Source
Low cost and one of the world's most dynamic ERP systems

.

Flexible
You need your own customized functions? Almost anything is possible!

Highly modular
You choose and pay for only those features you actually need to run your business.


Proven product
Over 7 million people work with Odoo on a regular basis and more than 5500 developers are constantly expanding the ERP's features. To date, Odoo is available in more than 176 countries and in over 85 languages.


User friendly
Navigate within the well-organized Odoo standard and start your business venture with a clean and user-friendly interface.


Scalable
Esily scale the number of users and extend the features to your business models, wether you are a startup or a global corporation.